Authoring your eLearning content will become even more easy. We are proud to share this blogpost of iSpring – which we are really enthusiastic about! Read everything about iSpring Suite Max in this article.
This August, we're releasing the new iSpring Suite Max, a pro solution for eLearning authors that will change the way they work on content projects.
iSpring Suite Max will replace the iSpring Suite Full Service plan and will include all of its features, plus so much more.
Here's a quick tour of the new features (we'll follow up with the detailed overview of each one):
You'll be able to create courses on the fly, right in your browser, with an intuitive cloud-based authoring tool.
The online space for teamwork and collaboration will speed up content development as it will allow several authors to work on the same project.
iSpring Suite Max will bring simplicity and order to the project approval process with stakeholders. You won't have to email copies of your project to SMEs or supervisors anymore — sending a link will be sufficient!
For experienced content developers, we'll make the open JavaScript API available to allow building a custom course player or receiving more data on user interactions with content. These options are helpful for those who are looking for advanced ways to work with and control iSpring content within their systems and services.
Collaborate with your team
You don't have to work on your project alone! Our August release will introduce iSpring Space, an online service for collaborating on eLearning projects. You can upload a draft course to your team's designated space to share it with your colleagues. And here's where the teamwork begins: other authors from your team can edit texts, insert videos to slides, add visuals, and more, to help you meet the deadline.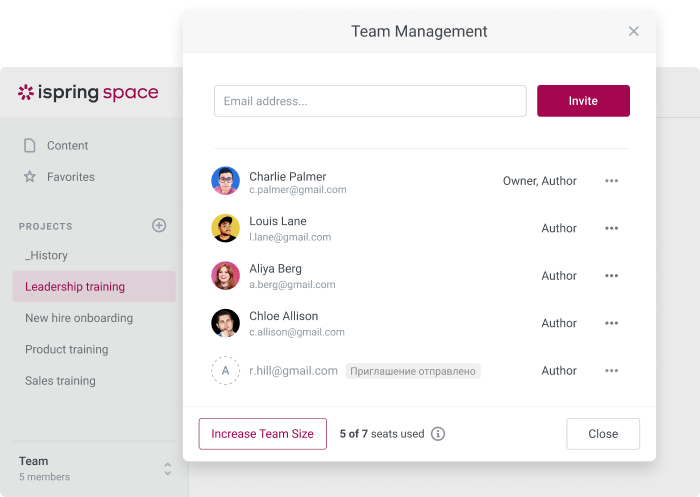 iSpring Space works in a browser. To give your team members access to a course, just specify their email. Only those who have your permission can view the files.
As soon as you share your project with other authors, they can download and open it in their iSpring Suite, make edits, and upload back to iSpring Space. The new version of the same course will appear, and you can send it up the ladder for approval.
Gain buy-in from stakeholders
Get approval from stakeholders or receive valuable feedback from a subject-matter expert faster: instead of emailing them a separate copy of your project, just send them a link to the course in iSpring Space and stakeholders will be able to view it online. They don't have to own iSpring Suite or have an iSpring account — a browser and an Internet connection are all that are required.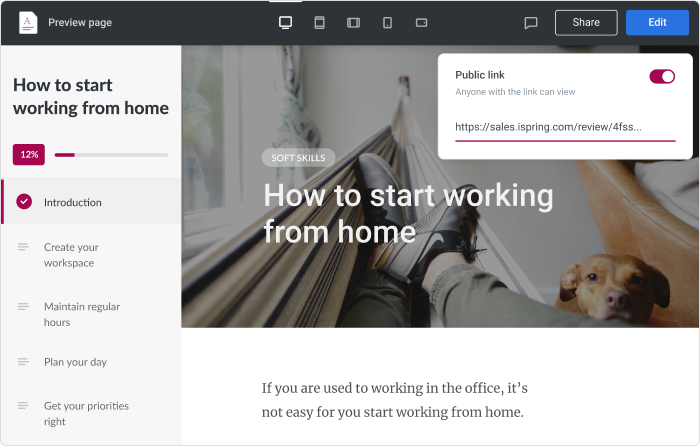 Do you need to collect feedback on your course? Simply upload it to iSpring Space and send a link to all those involved
At the next step, we'll add the option for stakeholders and SMEs to leave comments on the project right in iSpring Space.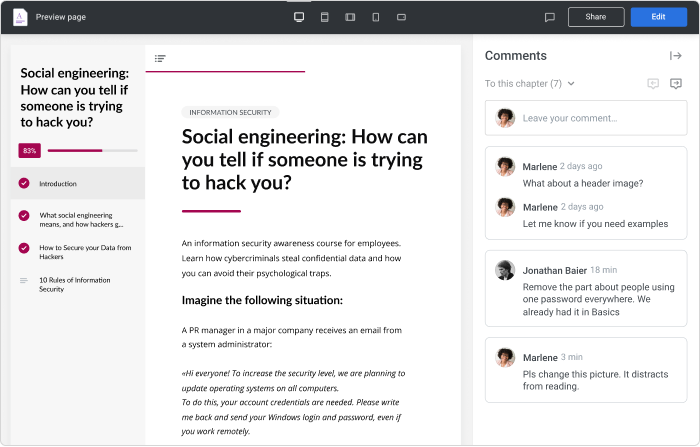 Coming soon: anyone who has a link will be able to comment on courses to make content more accurate and effective
Create microlearning courses online
Even if you don't have your work laptop with iSpring Suite with you, you can build a course on any other laptop/desktop — just sign in to iSpring Space and create content using our new online authoring tool.
Other authors from your team can cowork on the same course if they have an iSpring Suite Max account. And, to put the icing on the cake, they can do this on both Windows and macOS computers.
A microcourse is an interactive learning activity with images, chapters, and navigation. You can repurpose almost any text document or instructions and turn them into an online course by simply copying and pasting texts and pictures.
Creating a microcourse with iSpring is as easy as generating a post on social media: just add texts, pictures, and video
The microcourses you create are mobile-ready right out of the gate and adapt to all screens – computer, tablet, and smartphone.
If you plan to deliver the course in an LMS, you can publish it to SCORM or xAPI (Tin Can).
Take a look at these sample microcourses:
We've collected some tips that will help you get started in a new environment more easily and be productive from day one
These basic design tips will help you make everything you create look polished and communicate with your audience more effectively
And this is just the beginning! We'll be adding several new options to the online authoring tool in the upcoming months, and you can look forward to the function of creating graded quizzes appearing this fall.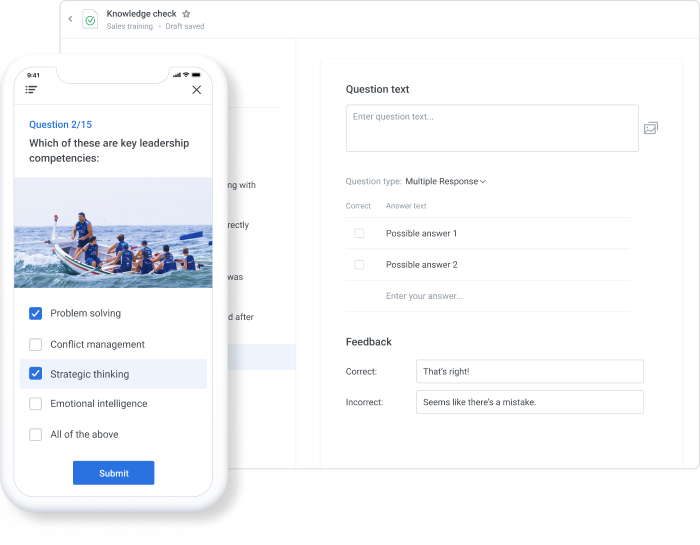 Evaluate knowledge retention with interactive quizzes
Store all your projects in one location
iSpring Space also provides handy and secure storage for your eLearning projects. You can store templates of courses, quizzes, and simulations, as well as completed projects. If you need to update a test or a course, just open the project in your browser, download it, and edit in iSpring Suite. Your files are always within reach.
Each author has 50GB of storage space. If you feel that it's not enough for your team projects, you can increase it anytime.
Customize course player
iSpring Suite now features the open JavaScript API. If you are familiar with programming and JS API, you can customize iSpring player; you can, for example, add buttons and actions over slides, or even build your own player.
With iSpring Suite, you can create a custom course player with extra controls or truly bespoke design
Get granular data from courses with JavaScript API
JavaScript API allows you to track learner progress with precision. It can report to your system how many slides were viewed, at which slide a learner stopped, the scores for a specific question group, and much more. This option can be helpful if you deliver courses in a custom LMS that doesn't support standard eLearning formats and you need to monitor learners' progress and performance.
We'll release iSpring Suite Max in just a few weeks, in the second half of August (no fixed date yet). It will be available as a 1-year subscription plan.
Stay tuned so you can be one of the first to know about and try out our new groundbreaking solution for eLearning authors.
More info on our website: www.spikelearning.nl/elearning-content-creator/
Source: https://www.ispringsolutions.com/blog/new-ispring-suite-max-for-productive-teamwork-on-courses